First Day of School is on Monday, August 26, 2019. SIS Portal is open to review your schedules.
Hannah Burlein Athletic Intent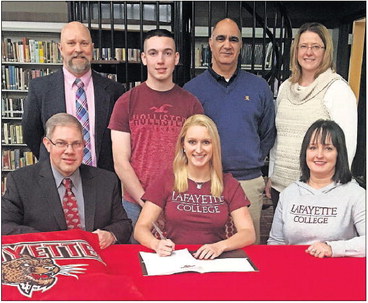 Honesdale senior Hannah Burlein has announced that she will be continuing her academic and athletic career at the NCAA level. A star swimmer who has earned medals at local, district and state events, Burlein will take her talents to Lafayette College in the fall where she will swim and pursue a pre-med degree. Hannah has also been accepted into the Army ROTC program. Her ultimate goal is to one day be a physician and an officer. She is pictured here with her parents, Steve and Elise. Also shown are (standing, from left): High school principal Chris Pietraszewski, coach Jacob Burlein, Mark Esolen, athletic director Diane Scarfalloto.
Article Courtesy of:
Kevin Edwards
The Wayne Independent